RNDGAME
RNDGAME (UPDATED JULY 18, 2021!)

If you get a middle part in dark grey, that is OPTIONAL to use WITH or WITHOUT it!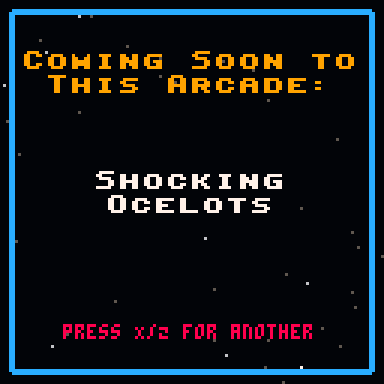 It's a random arcade game name generator -- press RIGHT ARROW to generate a new one! PRESS LEFT ARROW to go back through previous names it made. (NOTE: Please excuse any offensive combos -- hard to detect 'em!)
HISTORY
So in the game Anachronox, there was an arcade on the planet Hephaestus. I made a random arcade game name generator (for a sign in an arcade). It announced new games coming to the arcade, but just made up random silly ones. Every time you clicked on the sign, it made up a new one, just or silly fun.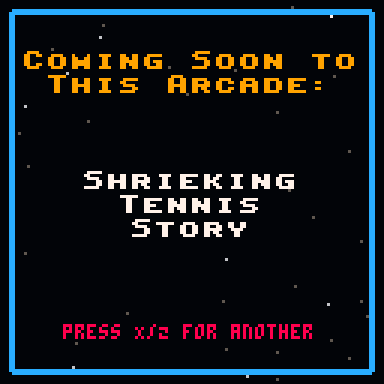 Hope you enjoy it! Let me know if there are any (family-friendly) words you want added!
NOTE: I could define "productions" which would make perfect titles every time. HOWEVER, I've left it intentionally loose to get a) the flavor of badly-translated titles and b) to allow emergent crazy titles that strict rules would eliminate and that would be sad. Enjoy the crazy with the sensical!

(Updated MAY 13, 2020 with many more words AND history saving!)
UPDATED JULY 15, 2021 with TONS of words, one bug fix, and one typo fix.

UPDATED JULY 18 for another typo fix.